Beauty & Self
Books & Music
Career
Computers
Education
Family
Food & Wine
Health & Fitness
Hobbies & Crafts
Home & Garden
Money
News & Politics
Relationships
Religion & Spirituality
Sports
Travel & Culture
TV & Movies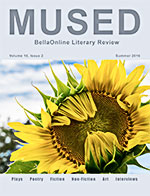 For many people, summertime is the perfect time to explore creativity. Plein air artists bring easels to gardens and beaches, showcasing nature's colors in oils, acrylics, and watercolors. Photographers ferret out a million sights to immortalize. Poets and writers stretch languidly beneath a shady oak tree, listening to the gentle buzz of insects, and constructing entire worlds out of the ether.

Enjoy the creativity of our community of artists - and then explore your own! We'd love to see your works for upcoming issues!

Summer Solstice 2016 issue of Mused

The Tower Card Interpretations
Tarot - Linda J. Paul, Editor

The Fool's journey through the Major Arcana takes a sharp twist when he moves into The Tower. When your life goes topsy turvy and you don't know which way to turn, it's hard to understand that sometimes it takes a leap of blind faith to go forward once again.




Never Plant In Another's Woman's Garden
Stress Management - Debbie Mandel, Editor

The moral of the story is don't plant in another woman's garden –even if you are asked. Women are competitive creatures and planting for another woman will bring up unruly feelings even if they have been buried deep in the subconscious. Here are 3:




No-Bake Peach Melba Cheesecake Recipe
Desserts - Karen Hancock, Editor

No need to heat up the kitchen; this luscious cheesecake requires no baking and it will draw raves.




La Cienaga Film Review
Drama Movies - Angela K. Peterson, Editor

Lucrecia Martel, leading light of the New Argentine Cinema, burst onto the international scene with her startling debut feature, "La Cienaga". Combining autobiographical elements and a keen ear for dialogue, Martel depicts a family in crisis.




Muck's Sleepover – Book Review
Children's Books - Launa Stout, Editor

Since Muck is needed back at the farm bright and early the next morning Travis suggests he just sleep at the far tonight. Muck has never slept away from home and he pleads to Wendy to let him stay.




5 Keys to Being Fierce
Women's Fashion - LaTeisha Clément, Editor

Let's face it: It's hard to feel fashionable when you don't like your physical appearance. Our bodies are the canvases for fashion, so they are very much needed! Take a step back and reevaluate your perspective. 5 Keys to Being Fierce


| Google+ |
E D I T O R R E C O M M E N D E D
True Balance by Sonia Choquette


This terrific guide gives you fun, everyday ideas with which to open and strengthen all seven of your chakra energy-centers, including the third-eye chakra and crown chakra which help you to connect with psychic phenomena and the divine.
From Pain to Parenthood


Follow one woman´s incredible and heartfelt journey from the pain of miscarriages to the joy of becoming a parent through adoption. Filled with honest, raw emotions and helpful coping tips, "From Pain to Parenthood" promises to touch your life with a real story that shows the power of the human spirit and the beauty of a mother´s love.
Eagle One is 2nd to None!


Everyone should have the basics to keep their rides shiny and road ready. The only way to do it is with Eagle One all day long!